News
Check our Facebook for the latest news.
Upcoming Shows
May
17-05

Café Scooter'S, Leeuwarden

18-05

Swass outdoor, Groningen

25-05

Drait festival, Drachten

30-05

Syrious mission Harmonie, Leeuwarden
June
01-06

Finale KPVF theater Romein, Leeuwarden

22-06

Leeuwarder Cultureel Zaailand, Leeuwarden
July
15-07

Podium Vlieland, Vlieland
August
09-08

Op 'e Sjouwer festival, Joure

31-08

Swass Outdoors, Zeerijp
September
14-09

Greidhoek festival, Wommels
Past Shows
2013
21-04

Sundaze live Gloppe, Leeuwarden

20-04

Halve finale KPVF Mix, Wolvega

03-04

Groninger museum LIVE, Groningen

30-03

Cafe Flow, Den Helder

21-03

Album presentatie Podium Asteriks, Leeuwarden
07-03

Musicbattle 058 Gloppe Leeuwarden

22-02

Huiskamer session, Jelsum
01-02

Denk het verschil Campinglaan, Groningen
26-01

Pelican Session, Leeuwarden

19-01

1e voorronde KPVF cafe Scooters, Leeuwarden
2012
25-10

Friesch Peil, Leeuwarden

20-10

Try out Gitaarhuis, Leeuwarden

30-09

Mijn Ouders, Leeuwarden
22-09

Podium Pingjum, Pingjum

13-07

Theater Vlintenholt, Odoorn

09-06

Simmerfest, Heerenveen

16-05

Double trouble Theater Romein, Leeuwarden
27-04

OOG Radio, Groningen

20-04

1st Try out Gitaarhuis, Leeuwarden
Constructed Land
You can listen to 7 of the 14 tracks of Cosmic U's debut 'Constructed land' here for free:
Stranded

His Pants

Shadows

Storm

1000 miles

Whispering Sand

Hungry Eyes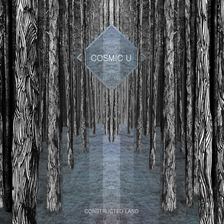 Watch the 'Stranded' music video!
Cosmic U - Stranded
Watch a great live session video by Pelican session!
Cosmic U - 1000 miles live
BIO 'CONSTRUCTED LAND'
Constructed land awakens, it takes you into a cosmic playground, a world constructed and floating on own observations. With 'Constructed land' Cosmic U presents a mix of moody, sometimes alarming played guitars and playfull but yet gentle vocals with a touch of incantatory, mystical atmospheres.
PRESS ABOUT 'CONSTRUCTED LAND'
Leeuwarder Courant, Jacob Haasma
'Zeker als er quasi-monotone, bezwerende sferen worden opgezocht, weet de groep te overtuigen.'
VPRO 3voor12, Obe Alkema
'Dit is andere folk, betere folk. Een gedroomd debuut'
PEOPLE ABOUT COSMIC U
Jort Klarenbeek, Jury KPVF
'Compositie, originaliteit en creativiteit zijn buitengewoon'
Koen Haringa, Mijn Ouders
'Cosmic U kruipt onder de huid en laat niet meer los'
Bente Hout, 3voor12 Friesland
'Strak gitaarspel en magische stem'